Technology is the means.
Outstanding marketing results is the end.
If you've been looking for an expert resource to leverage the latest in presentation technology to exceed your marketing expectations, from a creative PowerPoint presentation to a full scale interactive multimed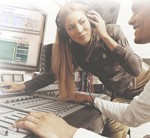 ia show – we can create it, and everything in between. Our capabilities include complete audio video production and editing video compression for streaming media and downloadable media, CD-Rom and DVD creation, encoding and authoring, sound editing, digital composing from still photography and moving media, logo creation/enhancement, 2D/3D animation, character animation and more. We'll combine graphic design with animation, video and special effects with user interactivity: it's all fully scalable to meet your budget and your objectives.
Ferrante & Associates' multimedia capabilities:
Create a dazzling multimedia trade show presentation, corporate broadcast or educational video
Marketing Mobile
Download your web sites for demonstrations
Convert manuals and catalogs to electronic formats
Digital video and interactive media
Small scale video taping, useful for small room presentations, discussions or ceremonies
Give us a call – we have a variety of professional services available to help, services like media management and planning, media consultation, project management, producing/directing, pre-production services and full-service production. You can have one or combine them to suit your needs and budget.