Do you continually have cartons of obsolete printed materials? Need smaller quantities?
Digital printing offers fast turnaround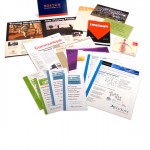 and quality print in low qualities, saving time and money. Most businesses today need the ability to on-demand frequently change the content and imagery of printed materials.
Today you can create digitally printed personalized targeted messages that speak directly to the recipient. Digital printing gives you the tools to develop short run one-to-one marketing campaigns where you can change both the text and images to speak directly to your prospect. Digital printing is also ideal for short run covers,  textbooks, software documentation, manuals production and personalized packaging promotions.
Digital Printing On Demand offers:
Smaller quantity orders
Reduced inventories and obsolescence
Streamlined inline folding, collation and finishing operations
Faster delivery times
Targeted messaging
Cost savings
At Ferrante & Associates, Inc. we offer a full range of digital printing capabilities for most applications, with quantities from as low as 10 printed pieces and up.
Ask us about the new

HP T200 Digital WEB Press

. A digital web press capiable of full color variable data on coated and uncoated stocks while reducing costs.