Take advantage of our hassle-free, quick, easy to use online fulfillment services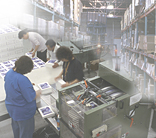 On-demand mailing and fulfillment is one of the fastest growing sectors of Ferrante & Associates' business. Whether you ask us to handle just the creative development and printing end of your project, or take the process further and develop an overall e-commerce  fulfillment solution, you can always count on us for careful management of your marketing materials.
Our full service facilities provide the exact attention to detail you need to make sure all marketing materials ship on the exact date required. We'll handle all the components and the time-consuming but critical communications among all components so that each is prepared on schedule and in budget.
With our attention to detail and emphasis on keeping our clients in the information loop, we are a perfect partner. Do you need a direct mail piece printed and mailed yesterday? Or maybe a one-time machine insertion? A hand-assembled on-demand program? A complete real time internet-based fulfillment program? We can help.
Warehousing Services
Traditional warehousing can be costly in time and space. Just-in-time systems equipped with analytical custom reports speed product delivery directly from suppliers to vendors or consumers. Creative use of the supply chain and delivery systems can save time and expense. Look to Ferrante & Associates to develop and manage automated warehousing and logistics functions, including:
Custom printing solutions
Customized 24/7 reporting
Monitoring product levels
Collateral and promo item request tracking
Storage management
Order preparation/Picking/Kitting
Shipping
Domestic and international
Distribution Centers
After your materials have been printed, where would you like them to go? We can manage that process for you. We'll even set up programs to track inventory, arrange distribution, and provide you with reports via customized Web interfaces.
Many of our direct mail clients have us print their materials in bulk to save costs and then store the materials for later use. Others prefer for us to print on-demand, especially when messaging and specifications are evolving and obsolete materials are to be avoided. The Ferrante & Associates proprietary client web portal system allows you to monitor product levels, re-order inventory, authorize shipments and track them to their destination.
Mailed in one or multiple waves?
Into the warehouse for storage?
Shipped in bulk to a designated receiving area?
Shipped in small on-demand increments per your requests?
Electronic order receipt and ship confirmation